Savannah Car Accident Attorney
A car wreck can cause serious injury and emotional distress. If you have been injured or a family member has died in an auto accident caused by a careless driver or another at-fault party in Georgia, the Savannah car accident attorneys at Bowen Painter Trial Lawyers can help you seek justice and fair financial recovery. We understand how these cases work and what injured victims need to move forward. Request your free consultation with our Savannah personal injury attorney today. We also accept clients in South Carolina and Florida.
Why Choose Bowen Painter Trial Lawyers?
Our law firm has been representing clients in Savannah and throughout Georgia for more than 20 years. In that time, we have earned a reputation of skill, commitment, and results.
Our trial attorneys have achieved outstanding settlements and verdicts for past clients, including the largest injury verdict in Chatham County's history ($18 million).
Our Savannah car collision attorneys operate on a contingency fee basis, meaning you won't owe a dime in attorney's fees unless we win your case, guaranteed.
Savannah Car Accident Resources
Car Accident Frequently Asked Questions
What Damages Are Available to Me in a Savannah Car Accident Claim?
If you were involved in a car accident that resulted in serious injuries, it can change your life forever. You need to focus on healing, which can be difficult if you are trying to work with insurance adjusters or pay off medical bills. In Georgia, most victims are able to file an accident claim to seek compensation. Instead of taking on all of this by yourself, hire a car accident attorney who can help put together all the documentation needed to file your injury claim.
Medical Expenses
Auto accidents can cost thousands of dollars for a victim. Some car accident victims do not have symptoms of injuries at first and may need medical care in the future. Medical expenses from a car accident can include, but are not limited to, the following:
Ambulance fees;
Hospital visits
Medical accessories including crutches
Prescriptions
Permanent disability
Cognitive or physical therapy
Pain and Suffering
Pain and suffering damages are based on the type of personal injury, the seriousness of the injury, and the future pain linked with the injury. Pain and suffering can be both mental and physical distress including stress and anxiety. In Georgia, victims can seek recovery for both non-economic damages as well as upfront costs.
Lost Wages
After being involved in a car accident, most auto accident victims have to take time off work for medical treatment and recovery. This can include therapy sessions, hospital visits, mobility issues, permanent disability, or other factors that stop you from working. Personal injury lawyers can also help prove that the injuries have decreased your ability to earn income in the future.
How Can a Savannah Auto Accident Lawyer Help You?
After an accident, you may be confused about what to do. Being involved in a car accident can be devastating to a person's body, mind, and financial well-being. If you were in a car accident and were injured, you may be wondering if you can receive compensation in order to help you pay for mounting medical bills. The answer is yes, but you should ensure you are hiring the best car accident attorney in Savannah so you can receive a fair settlement and the justice you deserve.
You may be asking yourself if you truly need a lawyer to help you manage your personal injury claim. A quality attorney is invaluable in car accident cases, especially while you are trying to focus on your recovery. An attorney can communicate with car insurance companies on your behalf, ensuring that all proper documentation is conveyed to them so you can receive your full settlement in a timely manner. An attorney will also determine the appropriate amount of compensation to ask for. Finally, your injury lawyer is likely more well-versed in local car accident law than you may be, so you do not have to attempt to learn the law while you are trying to build a case.
Hiring am attorney can be beneficial for several reasons. An attorney will handle all legal processes while you focus on recovering from your injuries. After an accident, injury victims should only have to worry about recovering from their injuries.
A Savannah car accident attorney will put together all the documentation needed to file car accident claims. This documentation may include:
Medical records
Photos of the accident
Insurance adjuster information
Witness statements
Police report
Traffic or security camera footage
Insurance adjusters may try to take advantage of a victim to avoid paying out a fair claim settlement. At Bowen Painter Trial Lawyers, our attorneys who specialize in personal injury law have years of experience handling insurance adjusters who take advantage of injury victims.
What is the Time Limit to File a Car Accident Case in Georgia?
You have a deadline if you wish to file a car accident lawsuit in the State of Georgia. A law called a statute of limitations places a time limit of two years from the date of the collision, in most cases. You may have more or less time than this, however, depending on the case. If you need to bring a car accident claim against the government in Georgia, for example, you will only have six months to file a lawsuit. Consult with a Savannah car accident lawyer as soon as possible to meet your deadline.
Is Georgia a Fault or No-Fault State?
Causation is necessary to determine in your automobile insurance claim, as Georgia is a fault-based insurance state. This means that the driver or party at fault for the car crash is liable, or financially responsible, for related losses. In a no-fault state, on the other hand, all drivers will seek benefits from their own insurance providers, regardless of fault. Every driver in Georgia must carry at least the minimum required amounts of liability insurance to cover bodily injuries and property damage. After a car crash, if you did not cause the wreck, you will file an insurance claim against the other driver to seek benefits through his or her insurance. If the other driver is attempting to blame you for the crash, you may need a car accident lawyer to help you refute fault.
Common Causes of Car Accidents in Savannah, GA
Almost all motor vehicle accidents in Savannah are preventable. They often take place when a driver is negligent or reckless. Driver negligence refers to the failure to use an appropriate amount of care behind the wheel, resulting in harm to others. All drivers in Georgia have a legal responsibility to operate their motor vehicles with care, prudence, and in regard to the other roadway users. Failing to meet this obligation can result in car accidents caused by negligence. Some of the most common causes of vehicle collisions in Savannah are:
Drug and alcohol use
Texting and driving
Drowsy driving
Speeding
Reckless driving
Road rage
Following too closely
Unsafe lane changes
Red-light running
Failing to yield the right-of-way
Breaking roadway rules
Poor vehicle maintenance
Road hazards and defects
Auto part defects
Driver error is the main cause of car accidents in Georgia. However, a factor besides operator error may have also caused or contributed to your car accident. A common example is an issue with the road, such as a pothole or dangerous construction zone. Another possibility is an auto part defect, such as a tire blowout. Our lawyers can investigate your car wreck to determine causation.
Georgia Car Accident Laws
At-Fault Party
Unlike some states that integrate a comparative negligence model, Georgia follows a traditional fault model for car crashes. This means that in the case of a car accident, an insurance company will investigate the claim and deem one party at fault over the other. The at-fault party must pay damages to the injured party, typically in the form of medical bills, lost wages, payments for past and future pain and suffering, and compensation for any damage to property. In some cases, punitive damages may also be available, typically awarded to the plaintiff as a punishment to the defendant for their particularly egregious negligence.
Determining Liability
For fault to be determined, liability typically must be established. The plaintiff must prove that the defendant had a duty of care to the plaintiff and breached this duty of care. Then, the plaintiff must demonstrate that the defendant's negligence led to their injuries, and the plaintiff suffered harm from the defendant's negligence. In Georgia, any driver on the road is considered to have a duty of care to other drivers. The breach of duty of care can encompass a variety of negligent actions, including but not limited to reckless driving, speeding, and driving under the influence. Hiring the best personal injury lawyer in Savannah will ensure that you are awarded the largest amount of compensation available.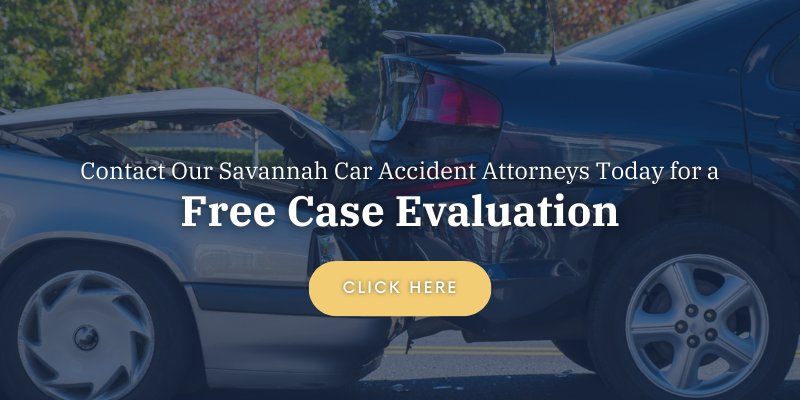 Georgia's Comparative Negligence Law
The comparative negligence law in Georgia states that as long as the person claiming the injury was less than 50 percent at fault for causing the crash, he or she can recover financial compensation. However, the courts will reduce the defendant's liability by a matching percentage. For example, if the court finds you 15 percent responsible for causing a vehicle collision, the defendant will be 15 percent less liable, meaning that you will receive 15 percent less in financial compensation. If you are found to be 50 percent or more at fault for the car accident, you will be barred from financial recovery.
Types of Cases We Handle
At Bowen Painter Trial Lawyers, we have the resources and experience to help clients with all types of car accident lawsuits in Savannah. We can represent you after a rear-end collision, drunk driving accident, T-bone accident, hit-and-run, uninsured driver accident, commercial truck accident, and more. We can also help you with the following types of car accident injuries, including:
Bone fracture
Whiplash
Back or spinal cord injury
Paralysis
Lacerations
Scarring and disfigurement
Loss of limb
Internal injury
We have experience with catastrophic and fatal automobile accident cases. We know how to go up against insurance companies, truck companies and other major corporations in pursuit of maximum financial compensation for life-altering injuries. Our lawyers will help you fight for the financial compensation that you need for present and future needs.
Motor Vehicle Accident Cases Our Firm Handles
Our firm can handle a variety of motor vehicle accidents, besides just car accidents. We have won settlements for our clients who have been involved in the following:
Your accident may have occurred for a number of reasons. Some of the most common causes include distracted driving, driving under the influence, speeding or reckless driving, failure to obey traffic signals or right of way, inclement weather, hit and run accidents, and issues with the road itself. Regardless of the reason you were in an accident, we can handle your case and ensure you receive the proper damages.
Why You Should Hire a Trial Attorney
There is a distinction between trial attorneys and non-trial attorneys. Trial attorneys are certified to represent clients in court. Although your car accident case most likely will not go to court, the ability to do so can improve the odds of receiving fair and full financial compensation from an insurance company. The threat of a trial is generally enough to pressure insurance companies to offer larger, more fair settlements. Trial attorneys are also more thorough in their work, as they prepare each case as if it will go to court, with careful attention to evidence and details.
Savannah Car Accident Case Results
Our Savannah car accident case results stand as a testament to our unwavering commitment to clients' rights and well-being. These outcomes exemplify our adeptness in advocating for fair compensation and justice in the aftermath of car accidents. From negotiated settlements to courtroom victories, our track record demonstrates our dedication to achieving optimal results for those we serve.
$2 Million settlement for car wreck with broken femur treated with multiple surgeries.
$950K Judgment for car wreck leading to hospital-acquired infection.
$250K Judgment for a client with an injured shoulder caused by a car wreck.
$100K (policy limits) – Child spent 5 weeks in a wheelchair after being run over by an elderly driver.
$100K (policy limits) – Husband and wife injured when a man passed out at the wheel and drove into their lane of traffic.
Testimonials
Andrew and Patti have worked tirelessly for me since my car accident. They have proven time and again that my best interest is at heart. Patti has given me moral support during the trying times of surgery and recovery, and Andrew has not paused in his commitment to me and my case. – L. Waring
Contact Our Savannah Car Accident Lawyers Today for a Free Case Evaluation
If you or a loved one was recently injured in an automobile accident in Savannah or elsewhere in Georgia, contact Bowen Painter Trial Lawyers today. Our Savannah car accident lawyers will help you fight for fair financial compensation for your property repairs, medical bills, pain and suffering, and more. We will strive to resolve your car accident claim as quickly and effectively as possible.
Find out if you are entitled to a full and just financial recovery after a car wreck or collision. Contact us for your free consultation today online or call (912) 335-1909 today. Our skilled personal injury attorneys will make sure you and your family have everything you need during this difficult time.
Areas We Serve
Historic District | Ardsley Park-Chatham Crescent | Baldwin Park | Gordonston | Victorian District | Parkside | Isle of Hope | South Historic District | Starland District | Coffee Bluff | Windsor Forest | Skidaway Island | Wilmington Island | Georgetown | Habersham Woods | Thunderbolt | Midtown | Eastside | Victory Heights | West Savannah | Liberty City | East Savannah | Yamacraw Village | Hudson Hill | Fairway Oaks | Tremont Park | Avondale | Oakdale